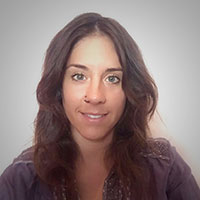 MARINA GARCÍA
Clinical Psychologist and Neuropsychologist
Licenced psychologist by the University of Salamanca.
Master's degree in Neuropsychology and Behavioral Neurology at Hospital del Mar (UAB, Barcelona).
Certified as expert in neuropsychology and education by the Complutense University of Madrid.
Graduate degree in ADHD, Learning Disabilities and Behavior Disorders at ADANA Foundation, Barcelona.
Expertise in Learning Disorders detection and intervention (IntegrateK program).
Certified in assisted interventions with animals (CTAC).
Professional experience in both diagnosis and treatment.
Cognitive-behavioral orientation.